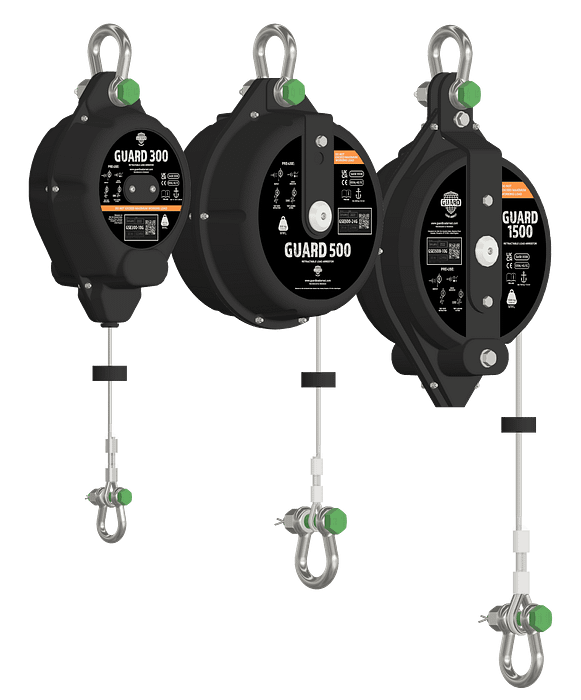 Guard Load Arrest lanceert
Guard Load Arrest is net gelanceerd en biedt duurzame oplossingen voor ladingarrestatie aan de amusement en industrieel sectoren.
Het productassortiment biedt bescherming van 150 kg tot 1500 kg en er zijn al ontwikkelingen gaande om het assortiment nog verder uit te breiden.
Een van de meest voorkomende toepassingen van lastafleiders is als een secundaire beveiliging voor kettingtakels. Patrick Evans, algemeen directeur, legt meer uit:
"EN 17206 schrijft voor dat bij het installeren van elektrische kettingtakels twee onafhankelijke veiligheidsoplossingen nodig zijn. Of de secundaire rem van een takel het nodige veiligheidsniveau biedt, hangt af van uw risicobeoordeling, maar we merken steeds meer dat installateurs Guard-eenheden naast takels inzetten om een ​​afzonderlijke beveiliging te bieden, mocht het primaire systeem falen."
Natuurlijk hebben elektrische kettingtakels over het algemeen een veiligheidsrem die in werking treedt als de primaire rem uitvalt. Maar wat is de back-up als de ketting of het anker van de takel uitvalt? Patrick gaat verder met te zeggen:
"Er zijn een paar opties beschikbaar, waaronder het eenvoudig bevestigen van een vaste staalkabel als secundaire veiligheidsoplossing. Dit zou extreem veilig zijn. Steeds meer gebruikers verlaten deze methode echter vanwege de hoge kosten van het sturen van een rigger om elke keer dat het nodig is te ontkoppelen en opnieuw te repareren. Ladingsafleiders met afscherming zijn een alternatieve, kosteneffectieve optie die dit probleem ondervangt door een staalkabel te leveren die automatisch in- en uitschuift, na de beweging van de last, zonder dat deze hoeft te worden losgemaakt."
Als de primaire dragende apparatuur uitvalt, stopt de Guard-lastafleider automatisch de vallende lading, waardoor schade aan de apparatuur wordt voorkomen en, nog belangrijker, het publiek/de artiesten eronder wordt beschermd.
Het is niet alleen de entertainmentsector waar steeds meer Guards worden geïnstalleerd. Veel industriële toepassingen profiteren van laststop. Patrick legt uit:
"Er zijn enorm veel toepassingen waarbij lastafleiders een ideale veiligheidsoplossing bieden. Hef of hang je apparatuur of materialen op die niet mogen vallen? Als dat het geval is, overweeg dan om een ​​Guard-lastbeveiliging te installeren als beveiliging voor het geval de primaire hijsapparatuur uitvalt."
"Productielijnen kunnen zich geen lange periodes van stilstand veroorloven om gevallen apparatuur te repareren. Een goed voorbeeld is hoe sommige autofabrikanten afhankelijk zijn van Guard-lastafleiders om belangrijke punten in de productielijn te beschermen; hun ingenieurs identificeerden een risico dat zwaar materieel tijdens gebruik zou worden uitgeschakeld, wat zou kunnen resulteren in een ongecontroleerde val op de werkvloer. Dit is waar Guard Load Arrest van pas komt. Een Guard-lastafleider die op de juiste plek is geplaatst, vangt automatisch vallende apparatuur op en voorkomt dat deze de vloer raakt. Onze producten zijn zo veelzijdig en betrouwbaar dat ze zelfs worden ingezet als beveiliging voor het optillen van radioactief materiaal in een bepaalde kerncentrale in het VK!"
De lijst met klanten van Guard Load Arrest is al indrukwekkend, waaronder O2 Academy Group en Jaguar Land Rover.
De nieuwe Guard bereik is nu beschikbaar.